I'm sure you remember how much of an Alien fan I am from my Sigourney Weaver post a few weeks back. Well, I've heard some rumors for some time now about an Alien prequel in the works, and I've recently learned those rumors have been confirmed.
Ridley Scott, the director of the original Alien, returns to science fiction with Prometheus (currently slated for release in 2012). The prequel tells the story of how Weyland-Yutani, the company that sent Ripley and her Nostromo crew to the planet in the first film, discovered the aliens. Based on what I've read, we will finally learn just who/what was in that original space ship that Dallas, Lambert, and Cain ventured into.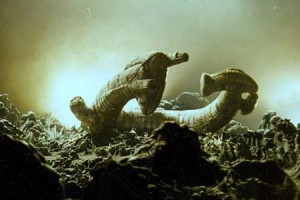 On the official Prometheus website, Ridley Scott is quoted as saying "the last 8 minutes of the 'Prometheus' story evolve into a 'pretty good DNA of the Alien one." That promises to be an intense 8 minutes!
Among the cast (as taken from IMDb) are Michael Fassenbender, who played Magneto in X-men: First Class, Charlize Theron of Monster fame, and Noomi Rapace who played Lisbeth Salander in The Girl with the Dragon Tattoo.
Here is a trailer of the movie I found on YouTube. It looks to be a hodgepodge of clips, but it's a good first glimpse. I've even heard the movie tagline will be "In space, something can hear you scream," which is a nice play off the original tagline "In space, no one can hear you scream."
The only sad news is that Sigourney Weaver will not be making a cameo in the film. 🙁
http://www.youtube.com/watch?v=JDBbxkSw3po