It's time to continue the countdown of my favorite musicals. Last time, I talked about The Producers, which came in at #5. Today, we move on to the #4 spot with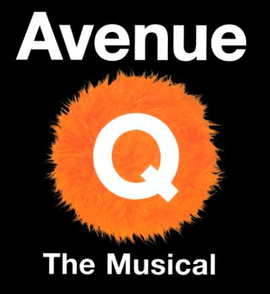 Now why did Avenue Q make #4?
Well, it's because it was an ingenious mixture of The Muppets, Sesame Street, and Melrose Place. I mean, really? Who doesn't love puppets who sing, curse, and have sex? And there was even a character playing the role of Gary Coleman.
Needless to say, I was rolling in the aisle for much of the show.

If you're not familiar with the plot of Avenue Q, here's a brief synopsis:
The puppet Princeton, who's just graduated from college with a B.A. in English, is searching for a place to live. He starts on Avenue A but has to travel all the way to Avenue Q to find an apartment he can afford. On Avenue Q, he meets his love interest, the virginal Kate Monster, as well as a cast of characters that include both humans and puppets living in harmony. Princeton is searching for his purpose, bungles up his life along the way, but has the support of his friends to see him through to the end.
During his journey, Princeton meets two other puppets Rod, an anal-retentive and closeted homosexual, and Rod's roommate, Nicky. Rod and Nicky are supposed to represent Burt and Ernie from Sesame Street fame, and in one of the most hilarious numbers, Nicky inquires if Rod is gay.
If You were Gay
Princeton's girlfriend, Kate Monster, is a teacher, and she has gotten a job to teach Kindergarten. She is ecstatic about trying out new curriculum revolving around the Internet. Unfortunately, fellow apartment dweller Trekkie Monster, tells her the Internet is for porn.
The Internet is for Porn
And lastly, the cast tackles the subject of racism and politically correctness. This scene features Kate Monster, Gary Coleman, the Asian Christmas Eve and her fiance Brian.
Everyone's A Little Bit Racist
So because of these unique numbers, hilarious lessons on life, and the wonderful mixture of puppetry and human acting, Avenue Q lands at #4 on my list of favorite musicals.