Today, I have the pleasure of hosting Brita Addams, who is quite possibly one of the sweetest women I know. She's going to be talking about her fabulous Tarnished Series. So, sit back, grab your favorite alcoholic beverage, and let's welcome the lovely Brita!
Hi Jacob,
Thank you so much for having me over to visit. You know how much I love you, and there's no greater compliment than inviting someone to your home.
I love you too, Brita. You know you're welcome here any time!
I have a giveaway set up for the tour, and I'd like to share the info with your readers.
There will be two winners per blog stop. One random commenter will win an ebook copy of Tarnished Gold or For Men Like Us. Another commenter will win a swag pack, with signed bookmarks, and a couple other goodies. Winners chosen on November 27.
And now, more info on the Tarnished Series
With the release of Tarnished Souls: Frankie and Gent, I'm often asked what's next in the series. The simple answer is lots, while the real answer is more involved.
The Golden Age of Hollywood spanned from 1927 or the end of the silent era, noted in history by the production of Al Jolson's The Jazz Singer, to 1963, also known as classic Hollywood, when the tone of movies was quite different than it is today. For people like me, those years signify a time when stars were really stars, they lived that role in public, and often, in private. The glitz and glamor was real, and stars cared what the public thought.
In 1930, Will Hays founded the Hays or Production Code, which followed strict censorship guidelines. Do you remember the old movies and sitcoms where married couples slept in twin beds? That was one of many mandates of the Production Code, and lasted until about 1968.
My favorite period begins in the 1920s, and extends through the 1950s, and I see the vast difference in films through the '60s and to the present day.
With so many juicy things that happened in old Hollywood, the book fodder is rich. Of course, I've done the story about an actor, in Tarnished Gold. In Tarnished Souls Volume 1, we have the story of a mobster who is in control of the extra's union, and while I don't focus on the union, the reader will get a sense of the mob's involvement.
The next book, Tarnished Souls Volume 2, will explore the life of a cop and a newspaper reporter in Hollywood. My original intent, when I started a book called Tarnished Soul, was to tell the story of a cop hired as a fixer. I scrapped that idea when Frankie Monetti came on the scene. Instead, I found a story about the hold the mob had over the entertainment industry.
My intent for the Tarnished series is to write about the following:
The fixers – those people hired by the studios to cover up for the actors, producers, directors, and others, who got themselves in trouble with the law in the court of public opinion. Mac may well be the star of this story, while Gray may star in Tarnished Heart. We'll see.
The agents, who pushed their clients before studio heads.
Tarnished Heart – Gossip columnists – these people made and broke careers by writing in favor of or against actors.
The casting couch – an interesting phenomena where sexual harassment was alive and well.
Directors – little, or not so little dictators.
Extras – what film could be made without them?
And there may be more, as my research progresses.
I suspect these stories will be a combination of novellas and novels. I won't know that until I'm into each story. With Tarnished Gold, I wrote the story as it unfolded. With Tarnished Souls, I intended to create a novella, and the second Tarnished Souls volume will be a novella as well. Perhaps Dreamspinner will combine the two, into a 60k novel.
I won't rush any of stories. I anticipate writing a novel and a novella per year, and if more comes into being, I'll consider the year productive. Look for Tarnished Souls 2 and Tarnished Heart (a novel) in 2014. I'm working on TS2 now, and I can't wait write TH. I'm fascinated by the grip gossip columnists had on the movie industry.
I hope my readers enjoy this series as much as I do writing it. The deeper I get into the research the more I realize how much I miss those mornings, long ago, when I sat in front of my parents' B&W television set and watched those old movies. I fell in love with Boston Blackie and Buster Keaton, Charlie Chaplin and Harold Lloyd. To this day, that hasn't changed.
Here's the blurb for Tarnished Souls: Frankie and Gent: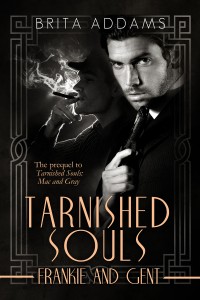 Hollywood's Golden Age is not all glitz and glamour. Mob boss Frankie Monetti controls the unions and the studios, which makes him and the syndicate very rich. But after five years, Frankie runs afoul of the law and those who put him in power.
Primo hit man, and Frankie's lifelong friend, Arvin "Gent" Vitali, goes west with orders to clean up the mess and then bring Frankie back to New York to answer for his double cross. But as the noose closes tighter around Frankie's neck, Gent questions where his loyalty truly lies. Is business just business or is freedom worth the risk? 
Purchase Tarnished Souls: Frankie and Gent
Here's the blurb for Tarnished Gold: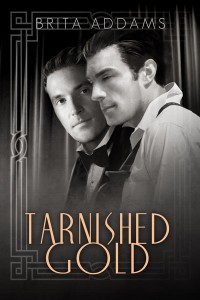 In 1915, starstruck Jack Abadie strikes out for the gilded streets of the most sinful town in the country—Hollywood. With him, he takes a secret that his country hometown would never understand.
After years of hard work and a chance invitation to a gay gentlemen's club, Jack is discovered. Soon, his talent, matinee idol good looks, and affable personality propel him to the height of stardom. But fame breeds distrust.
Meeting Wyatt Maitland turns Jack's life upside down. He wants to be worthy of his good fortune, but old demons haunt him. Only through Wyatt's strength can Jack face that which keeps him from being the man he wants to be. Love without trust is empty.
As the 1920s roar, scandals rock the movie industry. Public tolerance of Hollywood's decadence has reached its limit. Under pressure to clean up its act, Jack's studio issues an ultimatum. Either forsake the man he loves and remain a box office darling, or follow his heart and let his shining star fade to tarnished gold.
Purchase Tarnished Gold from Dreamspinner Press
Schedule for Tarnished Souls: Frankie and Gent Blog Tour
November 14 –The Rainbow Studio
November 18 – Dreamspinner Press Blog
November 18 –Brita Addams
November 19 –Sid Love
November 20 –Joyfully Jay
November 21 –You Gotta Read
November 25 –Jacob Flores
November 26 –The Novel Approach
December 3 – J.P. Barnaby
December 4 – Lynley Wayne
December 5 –Michael Ruptured
 About Brita Addams: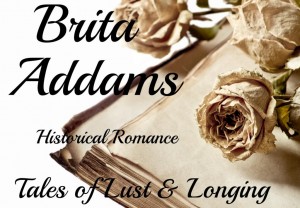 Born in a small town in Upstate New York, Brita Addams has made her home in the sultry south for many years. In the Frog Capital of the World, Brita shares her home with her real-life hero—her husband, and a fat cat named Stormee. All their children are grown.
Given her love of history, Brita writes both het and gay historical romance. Many of her historicals, as well as few contemporaries, have appeared on category bestseller lists at various online retailers.
Tarnished Gold, the first in her Tarnished series for Dreamspinner, received honorable mention, and is a finalist in the 2013 Rainbow Awards, historical romance category.
Brita and her husband love to travel. They've taken no less than twenty-five cruises and countless long car trips, as well as completed a Civil War battlefield tour, and visits to many sites involved in the American Revolutionary War. Their 2013 anniversary tour of England, Scotland, and Wales gave Brita fodder for many new tales.
On a trip to Hollywood, California, Brita stood in the footprints of some of her favorite actors—Clark Gable, Henry Fonda, Tyrone Power, and many others, at Grauman's Chinese Theater, and has even kissed Mickey Rooney.
A bit of trivia—Brita pronounces her name, Bree-ta, and not Brit-a, like the famous water filter. Brita Addams is a mash-up of her real middle name and her husband's middle name, with an additional d and s.
Readers can find Brita Addams at any of the following places:
Twitter: @britaaddams
Monthly column at The Novel Approach