Since The Chasing the Sun blog tour has officially ended, I figured it was a good time to discuss the third book in The Provincetown Series, When Love Gets Hairy.
Who are the main characters in When Love Gets Hairy?
Nino Santos, who is Van's best friend in When Love Takes Over, takes over the spotlight. If you've read the first book, then you are familiar with Nino's cocky, self-confidence and his sexy swagger. He's got a killer bod, a perfect face, and a mass of curly locks that get him what he wants–hot studs to play with.
In When Love Get Hairy though, Nino's perfect life is far from ideal. Not only is he having some career problems, but it's Bear Week in Provincetown! To say Nino isn't a fan of the heavy or the hirsute is an understatement. What's a hot model to do when his favorite toys are not in town for a whole week?
Enter Teddy Miller. Teddy is a nice guy, and he has a good head on his shoulders. He's content with his hairy body, shorter stature, and imperfect physique. He is who he is, and he makes no apologies. Teddy comes to P-town to have some fun with his furry friends, but when he wakes up one morning after a party he cannot remember next to Nino, well, his life is thrown askew.
For Nino and Teddy it's loathing at first sight!
So what about that blurb?
You're right. I suppose I've set the scene enough for now. Here is the official DSP blurb for When Love Gets Hairy.
As vain as he is beautiful, Nino Santos happily lives life waiting for the next ferry full of fairies to bring him new conquests. As long as they aren't hirsute, he's all in. So he's shocked to wake up after a beach party he cannot remember with a hairy naked man lying next to him.

Teddy Miller doesn't remember the "Bear Week" party either, much less the Abercrombie & Fitch model wannabe next to him. Teddy doesn't give two cents about appearances, but guys like Abercrombie don't return the favor. That's why he prefers men with extra fur and padding over carbon copy clones of perfection—a type of man Teddy is far too familiar with.

When Nino and Teddy glimpse each other the next morning, it's loathing at first sight. Instead of exchanging phone numbers, they exchange insults and vow never to see each other again. In Provincetown, however, escaping a trick best forgotten isn't easy. Mutual friends and chance circumstances keep Nino and Teddy in each other's orbit. But are they fighting each other or the attraction growing between them? The answer lies amid Provincetown's windswept dunes and the night neither of them can recall.
I don't know about you, but I think the folks at DSP did an awesome job with that blurb. They are so good to me, aren't they?
What else can I share about When Love Gets Hairy?
Well, right now, the book is slated for release at the beginning of January, so we are only about a month away. I just can't wait for all of you to be able to read about Nino and Teddy. I really think you are going to like them.
And last (but not least) here's the beautiful cover!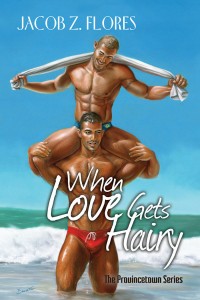 How awesome is that cover? I think it might be the best one yet. It does a good job of capturing the mood of the book, and Michael Breyette's work is just stunning.
Well, that's all I have for you right now. As release day gets closer, I'll be sharing more information about the book, but I wanted to give everyone a little sneak peek. I hope you're glad you came! 🙂