Can you believe it? On December 14, the third book of the Warlock Brothers of Havenbridge series, Soul Struck, releases, and Pierce Blackmoor, Mason and Thad's older brother, snags the role of the main character away from his younger brothers. Believe me when I say there was much complaining about this from Mason and Thad.
In Soul Struck, we travel even farther into the shadows and secrets that have hounded our characters in the first two books as well as bring to close the first (yes, the first!) story arc of this series while also setting up the new story arc that will begin in book four. As if that isn't enough, we also get to meet the young man who forever changes the way Pierce views the world.
In case you haven't seen the cover for Soul Struck yet, here it is!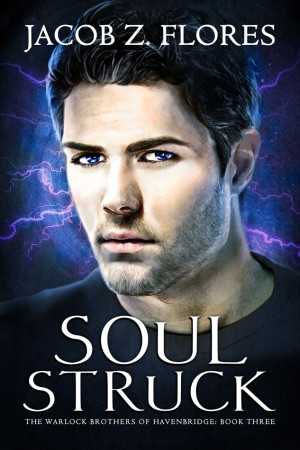 Isn't it gorgeous? It was created by Dreamspinner's own Paul Richmond, who I am forever indebted to for creating such beautiful covers for this series.
To celebrate the release of Soul Struck, I will be on a month long whirlwind tour that will include both pre-release and post-release stops. I'll be sharing graphics, blog posts, and mini-author readings that will hopefully whet your appetite for Pierce and his story. The content will be shared on my social media (so if you aren't following me on Facebook, Twitter, and Google+, now is the time to start) and other blog sites that have generously agreed to host me on my tour. Starting tomorrow, you can find more information over at my Havenbridge site, which is dedicated to the world of the Warlock Brothers of Havenbridge. You can be magically teleported over to that site by clicking here.
Also, I will be hosting a giveaway at special stops along my blog tour. Readers have several chances to win a free ebook from my backlist as well as enter to with the grand prize award–a $50 gift card to Amazon.
I will be providing a list of dates over at my Havenbridge site, so make sure you check there every week, but for now, here are the stops for week 1.
WEEK 1
---
12/1 My Facebook Page

---
12/2 Books that Are a Must Read
---
12/3 Joy & Isa Love Books

---
12/4 My Twitter

---
12/5 Here Is What I Read

---
12/6 Jazz Book Reviews

---