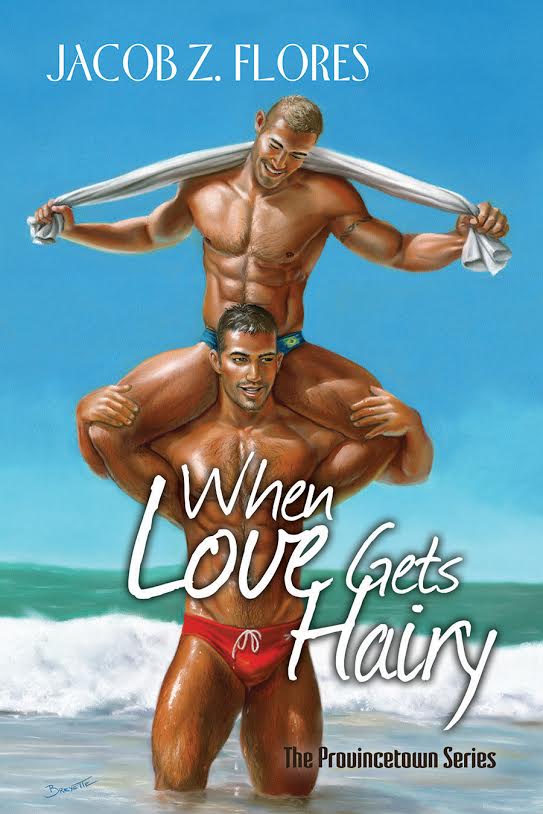 Interested in purchasing When Love Gets Hairy? Just click the banner!
♠♠♠♠♠♠♠♠♠♠♠♠♠♠♠♠
Danielle from Sid Love gives it 4.5 stars
"For me this series became a must read, to the point that when I start reading I want to finish it …"
Read more
♠♠♠♠♠♠♠♠♠♠♠♠♠♠♠♠
Barb from Hearts on Fire Reviews gives it 5 hearts
"I absolutely loved this story! I loved the way the author showed us glimpses into each man's past and allowed us to see the damaged men under the tough personas.  I was rooting for these two to the point where I literally couldn't put the book down …"
Read more
♠♠♠♠♠♠♠♠♠♠♠♠♠♠♠♠
Whit from Live Your Life, Buy the Book gives it 4.5 stars
"When Love Gets Hairy was fun, funny, and romantic. I'm a huge fan of the MCs and this story. This one is a goody! …"
Read more
♠♠♠♠♠♠♠♠♠♠♠♠♠♠♠♠
Pat Henshaw from The Romance Reviews gives it 4 stars
"Jacob Z. Flores' Provincetown series just keeps getting better and better with each book…"
Read more
♠♠♠♠♠♠♠♠♠♠♠♠♠♠♠♠
Jackie from The Novel Approach gives it 5 stars
" Each of these books can be read as stand alones, but the series is so good I would recommend reading them in order. You won't be sorry…"
Read more
♠♠♠♠♠♠♠♠♠♠♠♠♠♠♠♠
Morgan from The Blogger Girls gives the audio book 5 stars
" Anyhow, he did another wonderful job with this narration. His voice is so easy to listen to, and his emphasis on words and "acting" was just right. It's hard for men to perform women's voices, but he does a nice job, not too squeaky or annoying…"
Read more
♠♠♠♠♠♠♠♠♠♠♠♠♠♠♠♠
Lisa from The Novel Approach gives the audio book 5 stars
"
Of course, in any of Jacob Flores stories there are many characters and When Love Gets Hairy is no exception. All the characters are colorful and really help to add depth to give you a taste of what it might be like to live in and visit Provincetown. I just can't say enough good stuff about Jacob's writing. I can always depend on him to pen a great story, but I like how he fills in extra details of Provincetown and the characters that visit and live there.
The narrator of this series, T.J. Jamesin, again does a great job and is perfect for the role. Jacob, please continue writing, and please continue using T.J. Jamesin as your narrator. It's a great partnership…"
Read more
♠♠♠♠♠♠♠♠♠♠♠♠♠♠♠♠