It's time to return to counting down my top 5 favorite musicals of all time. I've already shared with you why I love The Producers (#5 on my list) and Avenue Q (which came in as #4), and today, I'm going to talk about the musical that made #3 on my list: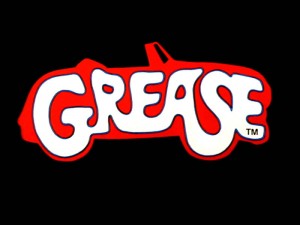 Now those of you who know me are probably shocked as hell right now. I'm a HUGE (and that is putting it very mildly) fan of Olivia Newton-John. She was my very first diva and I was instantly taken in. I still remember watching Grease for the first time and wanting to DIE because I wanted to be Sandy that badly.
Yes, yes. It should have come as no big surprise that I was gay when I finally hand-jived out of the closet twenty years later.
So why did Grease make the #3 slot on my list?
Well, did I mention it has Olivia Newton-John in it? I did? Okay, well it also has John Travolta, who at the time, I wanted to be my boyfriend so bad. Who knew that all I needed to do was become a masseur to have him? But oh well! Que sera sera!
But beyond Olivia and John, this musical has everything! Infectious songs, an outstanding cast, and a great story about love.
Normally, I would share a synopsis of my favorite musical, but since Grease is such a classic, I doubt that it is necessary. We all know the story!
So let's get to the numbers that still make me smile to this day.
Summer Nights
If there was ever a song that was an epitome of a musical, "Summer Nights" is definitely it. In just a few short notes, most everyone can identify the song, and why not? It's a fun song about summer loving. Many of us have experienced that first summer love, and to relive that feeling every time we see this number, makes it very special to me.
Look At Me I'm Sandra Dee
Even though this number doesn't have my Olivia, it is still one of my favorites. When I first saw Grease, I remember instantly hating Rizzo. I certainly could relate to Sandy being picked on. All I wanted to do was rush into the screen and tell Sandy that I'd be her BFF and then we could both slap the shit out of slutty Rizzo. But with maturity, I see that Rizzo's attempts at making fun of Sandy were a result of her insecurities rather than anything to do with Sandy. Isn't that the way it always seems to go?
You're the One That I Want
This song is one of my absolute favorites from the musical. Not only does Sandy get her man but she shows him she can be a badass leather chick. I remember thinking: hey, I can do that too. And I've gotta admit, I pride myself on being a mixture of nice and naughty, and who do I have to thank for that? Why Olivia Newton-John of course!
So there you have it. Because of the great cast, numbers, and plot, which all still hold up to the test of time, that is why Grease is my third favorite musical of all time.