We're up to #2 this week on my top 5 favorite musicals. Coming in at #5 was The Producers, #4 was Avenue Q, and last week's #3 was Grease. Today, it's time to talk about my #2 favorite musical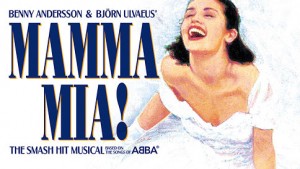 So why did Mamma Mia! make the #2 slot. Well, that's easily summed up in one word–Abba! I have always been a big Abba fan. Their pop songs are fun and once you hear them, you just can't get them out of your head. Not that you would want to anyway.
When I saw the show on Broadway, I had to stop myself from singing along with the cast and getting up and dancing. Luckily, the show had some audience interactive parts when doing so was encouraged. Naturally, I got right on up and shook everything I had.
For anyone who's unfamiliar with the plot, here's a brief synopsis:
Twenty-year old Sophie is getting married, much to her very free-spirited mother Donna's chagrin. Sophie has no clue who her father is but upon searching through her mother's things, she finds out that she has three potential would-be fathers. Naturally, she invites all three of her mother's former beaus to the wedding, and they all accept. When the men arrive, Donna is floored. The resulting chaos is what the show is about as well as the Abba classics that are ingeniously and flawlessly written into the plot.
Which numbers were some of my faves? Well, here they are:
Honey, Honey
This number takes place after Sophie's best friends arrive for the wedding. She fills in her besties about her mother's past and what she's done.
Mamma Mia
During this scene, Donna learns that her exes are on the island and staying at her hotel. She's angry that they are there, but she's also intrigued. She hasn't really gotten over any of them, but there is one among them who she's always been madly in love with.
Dancing Queen
This is one of the hilarious numbers during the show. Donna's best friends try to cheer Donna up after she learns that her ex-beaus are in town. They want her to realize that she is still the carefree, strong girl she once was.
So there you have it. The Abba songs are really what make this musical for me. The film version wasn't nearly as powerful as the Broadway version. Still, it was fun to watch. This is definitely one musical I can watch over and over. And believe me, I have!