We have finally arrived at the #1 spot on the countdown of my favorite musicals of all time, and what a ride it has been. I've shared some of my favorite numbers as well as my reasons why these faves of mine made the top 5.
For anyone who may have missed the countdown, here they are:
#4–Avenue Q
#3–Grease
#2–Mamma Mia
So, which musical took the covered #1 spot? Well, that would be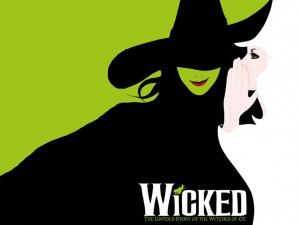 What is so great about Wicked that makes is my absolute favorite musical? Well, for one, it totally made me re-think the way I saw the characters from The Wizard of Oz. The plot and characterization of this "prequel" to the movie was so superbly and seamlessly done that it makes you question the characters we've all grown up with. Was the Wicked Witch of the West really wicked? Was the great and powerful Oz really a kind-hearted leader? And Glinda? Well, she is more than what she appears to be in the movie.
That's what made this musical so awesome for me. Was that the only reason? Not even close.
The musical numbers are stunning, and Indina Menzel who played Elphaba (AKA the Wicked Witch) and Kristin Chenoweth (who plays Glinda) delivered awesome performances during their run on the show.
Now, for anyone who is unfamiliar with the plot of Wicked, here's a brief synopsis:
After the citizens of Oz celebrate the death of the Wicked Witch of the West, Glinda the Good Witch descends to recount her past friendship with Elphaba. The two attended magic school together, and though they hated each other at first sight, they eventually became the best of friends. Together, they sought to figure out strange occurrences in Oz, where human like animals were reverting to animal form. Their journey takes them to Oz, where they must bottle a corrupt leader and where their friendship is tested.
And now, to my favorite part–sharing my favorite numbers from the show.
Popular
http://www.youtube.com/watch?v=F2dRALQ8-pI
Elphaba and Glinda are assigned to be roommates. At first, they make each other's lives hell, but after a touching moment of friendship, the two decide to bury the hatchet. Glinda even decides to teach the green-skinned oddball, Elphaba, how to be popular.
Defying Gravity
http://www.youtube.com/watch?v=6dDmcsbIeBY
Shortly after journeying to Oz, where Elphaba is framed as a criminal, Elphaba decides to use her magic to reveal the corruption in Oz. She wants Glinda to go with her, but Glinda decides to stay behind. In perhaps the greatest number in all the shows I love, Elphaba embraces the "wicked witch" title in order to finally be free.
For Good
The end draws near for Elphaba's and Glinda's friendship. Elphaba has kidnapped Dorothy and her friends as a ploy, and Glinda tries to stop her. However, there's no stopping the inevitable. The two say goodbye and express how much being friends has changed their lives.
So with that, I bring to close the countdown of my favorite musicals. I hope you've had as much fun as I have, and if you haven't seen any of the musicals on my countdown, I urge you to give them a try. You'll be glad you did.