I'm pleased as punch to be hosting Tia Fielding on my blog today. I just love it when authors want to stop by and visit with little ol' me. It makes a guy feel special, you know? Any way, you didn't come over today to see me. You came to see Tia, so without further ado, here she is!
Tia Fielding Book Blast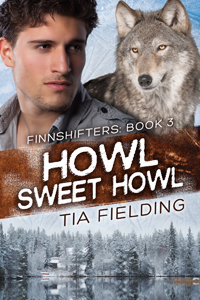 Finnshifters 3: Howl Sweet Howl by Tia Fielding
Life at the Jarvela farm hobbles on when the new year rolls in. Losing his wife and co-alpha in the storm of the decade emotionally paralyzed Sean, though he tries to cope and attempts to pick up the pieces with their children. Rider, another alpha, could give him the love and comfort he needs, but Sean is too depressed to recognize the possibility of having a male partner, and he goes into mental tailspin.
Rider makes the hard decision to leave for a while, and Sean turns his energy and sadness into working on the neighboring Metsala farm with the other members of their farm family. But Sean isn't really getting better, and that won't change until he can let his wolf out again. If he doesn't, he might lose his sanity too.
Book Links:
Dreamspinner (Pre-orders) Ι Goodreads
Even after a decade, the life that journalist Brent Walsh and Milwaukee homicide detective Shawn Mackey have made together is far from boring. But when a new case cuts a weekend getaway short, they aren't quite prepared for how it will impact their personal lives. Suddenly there's too much to juggle: Shawn will be working the case of the sharpshooter who is trying to infect random people with HIV, Brent needs to cover the story but fears a conflict of interest, one of Shawn's colleagues is attracted to him, and Brent sincerely needs to mend the painful break with his childhood best friend, Ollie, and heal their broken hearts.
Though the case comes to a close, it's not the end of their troubles. Shawn and Brent still face a past of old white lies, a present possibility of inviting another man to their bed, and a future with children, not to mention health issues and national fallout from the case. It's enough to make them want to run away—until they realize they have to face those challenges head-on so they can get on with the life of love they're hoping for.
Book Links:
Goodreads Ι Dreamspinner Ι Amazon
Five random facts about writing a novel "Tia Fielding style"
One – I rarely plan. I almost never have an outline, and I can't remember when I wrote the last story that I knew the ending of before I got to writing the last 1/4 of the book. This leads to problems, of course. A lot of problems, actually.
Two – Because of #1, I get stuck easily and that, while added to my struggles with depression and adult ADD, make most stories hard to write. Let's make my NaNoWriMo novel for this year an example, shall we? I lost track with it around day 15, mostly because I've had a cold and a bronchitis for couple of weeks now and my antibiotics make me tired as heck a lot. Adding all that to the standard difficulties means that I'm not even halfway to the novel and I'm already mentally stuck.
Three – Untangling my thoughts is never easy once I've gotten stuck. I suspect it's not easy for anyone, but for me it's pretty tricky. Mainly because I have low self-esteem as a writer. That leads me to a rut of "It's not going anywhere, but maybe it's not supposed to because I suck!" Yeah, not cool.
Four – Distraction helps. Because of the ADD, my mind goes from zero to "Oooh, shiny!" in three seconds or less. To prevent that from becoming a pattern of chasing shinies, I usually distract myself on purpose. Often, when I write, I have my manuscript open on half screen, while the other half runs a show of some sort. Recently it's been MasterChef Australia, but it's also been Top Chef, Bondi Rescue, and many other shows. Whatever requires little thinking and I can easily pause when I'm back on track again. My strategy with this kind of distraction is this: I feel my mind wandering, I quickly hit play on the show and watch a few moments, then go back to my writing. If I didn't have the show, I'd be soon checking emails, Facebook, playing a few rounds of some game, doing unimportant research, checking some websites….
Five – Soundtrack. While I do write in silence a lot too, some stories have songs "written into them."  I don't mean actual lyrics or even titles in the story, although I tend to mention a lot of songs in some stories, for sure. Sometimes I come across or remember a song that fits my characters or the story perfectly. It's kind of weird sometimes how something just hits me with a hammer.  An example? Try Green Day's 21 Guns and think of Sean from Howl Sweet Howl.
Author Bio:
Tia Fielding is a 30-year-old Scandinavian. She is a self-proclaimed "queer girl", lover of everything pretty, witty people, words, cats, sarcasm, autumn, and caffeine.
She uses her nights with her head in the clouds and her feet on the coffee table, right next to her laptop. Her days? She uses those by sleeping way too much.
Tia started writing stories early on, almost as soon as she learned how to write. The early stories about horses and ghosts have changed into romantic tales about people in love. She stopped writing at some point in her late teens and early twenties, but began again a few years ago, after finding fan fiction. Tia is not ashamed of her past of borrowing other people's characters, but has found creating her own much more satisfying.
Social Media Links:
Twitter Ι Facebook Ι Goodreads Ι Website